How can SUCULTURE help?
For ease of navigating through the topics and articles on the SUCULTURE website, and to ensure a positive experience, we have put together a list of potential issues which may arise during your SUCULTURE experience, and ways to resolve them.
If you need further help, or the issue remain unresolved, please get in touch via email and we will be more than happy to help.
Creating an account.
Registration is a prerequisite to accessing the full benefits of SUCULTURE; contributing to discussions, and, sending private messages to members. To commence; clicking on the Login/Register button at the top of the homepage leads you ultimately to the registration page. Enter your username, email, location and the password. You should receive a notification and welcome email to your email address requiring you to Activate Your Account. You should now be able to login and begin your SUCULTURE journey. For help, please contact us.
No Notification or Welcoming Email?
Check your spam/junk folder and add noreply@suculture.com to your email's safe list. Please do contact us if you experience any problems.
Profiles.
SUCULTURE has been designed as a community where trust, safe interaction and interconnectivity matters. Clicking on a member's profile provides you with several important pieces of information:
Information about the user, their preferred username, their portfolio, media, e.t.c.
Their history, how long they've been posting on SUCULTURE, active posts and discussions, friends, and reviews.
This helps to increase the credibility of members, and the community. A user's profile will most likely have no 'user-history' if they are new to SUCULTURE
Managing your privacy
Adding and Editing your Profile Info and choosing who you share it with.
Some of the information on your SUCULTURE profile will be visible to other members. If you're concerned, and will like to manage the information people have access to, go to your profile, click the drop-down and go to Profile Settings. Amend, click "Change" and "Save
Changes". You can also restrict what can be seen on your profile at the time of Registration.
Account or Technical Problems.
First, double-check to see the description of the error message. If in doubt contact us for help.
Error Message: Username.
Notably, it is important to remember your Username, and, Login can be done using both your Username and the email address you provided during registration. If you're experiencing any technical issues when trying to Login, check that the Username or email address provided on registration has been entered correctly. Ensure that the following have not been inadvertently included, if unrequired; – comma's, semicolon, spaces, or double/extra dots.
In addition:
Check to see that you have entered the correct domain name ie; .co.uk for .com
Was your account created with a different email address ie; a work-based email?
Bear in mind that email addresses on SUCULTURE are usually case sensitive; so myname@myname.com is not in any way identical to MyName@MyName.com.
Error Message: The password you entered for the Username is incorrect.
To protect your account effectively, passwords at SUCULTURE are numerical and case sensitive.
If you are experiencing difficulty using your password, you may want to reset it by clicking the "Lost your password?" link, on the Login page and Reset Password.
Note: Keeping your Account Secure. To add an extra layer of protection to your account password you should consider including at least one number or one special character (@,#,$, etc.).
Unresolvable Technical Issues, or Error Messages
Additionally, if you are experiencing difficulty, or cannot access your SUCULTURE account, you may also want to check what antivirus or security software you have installed on your device.
Double-check to see if the antivirus, privacy or security software installed on your device has restrictions, and temporarily disable this. Additionally, it may be advisable to include SUCULTURE as a trusted site on your mobile device, or computer.
If you are still experiencing difficulty, try clearing your cookies and cache; and alternatively contact us. We are happy to help!
Modifying your post or message?
Click on the "Edit" button at the top of the message. Here you will be able to edit or amend your post.
Images, and text, embedded in each article are responsive with hyperlinks. Hover over an Image, or Text, click on the Image or Text, which will lead ultimately to an external link for additional narrative/exposition on the subject in question.
Modifying your personal details?
Go to your profile, click the drop-down and go to settings. Click on the "Profile Settings"; "Account Settings"; "Widget Settings"; "Change Avatar"; "Change Password", edit and save.
Placing a photo on my profile?
Go to your profile. Click on 'Widget Settings', edit, upload image and save.
 ** Note: To include an image in your Profile Avatar, or Profile Cover, go to Settings. Top left (see below image), click on the Profile Avatar icon, or Profile Cover icon, attach image, and save.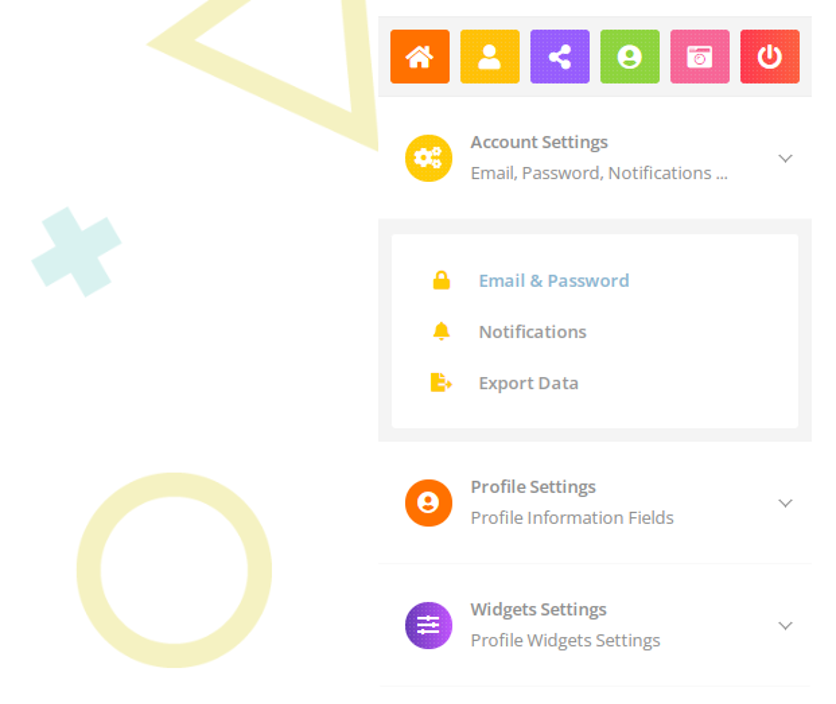 Why has My Post been Removed or Deleted?
This may mean that your post has violated one of our site policies. Here, a notification will usually be sent to your email address, informing you of the policy infringed. Please review our General Posting Policies.
Deactivating your account
To do this Login to your profile account. Click on the drop-down and go to 'Account Settings'. Click "Delete Account". You'll see a screen advising you on the implications of deleting your SUCULTURE Account. This will mean the action of deactivating your account becomes irreversible, and will involve all user-details, posts and media becoming unavailable and irretrievable. Tick the confirmation button, indicating that you understand this. Your Account will be deactivated and you will receive an email confirmation.
Is membership free?
Membership on SUCULTURE is free. You can partake in discussions on a range of hard-hitting social topics, cascade what you do on the relevant forums/platforms. Like, create, initiate friendship requests, and respond to Private Messages ("PM's").
************
General Posting Policies.
Avoiding Discrimination.
Everybody expects, and is worthy of the utmost decorum and deference. This inalienability is enshrined in not just natural laws, but human ethics and codes. Therefore, SUCULTURE frowns on discrimination in all its forms and we expect this to be reflected in the spirit and the letter of your posts; giving all equal access to the benefits of the site. This is the SUCULTURE code.
Reporting
At SUCULTURE, we depend on our community to ensure everything works seamlessly, and, to keep everything as it should be. This can be done through flagging a message for review. We'll aim to work with the author to help get things right. Needless to say, we reserve the right at our discretion to decline or delete content that we feel is inappropriate and breaches the community ethos, the General Posting Policies, and the Terms of Use. In addition to this, we reserve the right at our discretion to restrict a User's continued usage of the site either on a temporary or permanent basis, and the refusal of a user's reregistration.
Reporting Bad Activity: If you've seen something that violates our General Posting Policy and Terms of Use.
Click on the "Report Abuse" button displayed on the side of the page, and we will investigate the violation further.
Reporting Bad Activity: If you've found content on the site that appears offensive, defamatory or inappropriate.
Click on the "Report Abuse" button. Fill in the details; or contact us through our contact us page, and we'll aim to act promptly.
Importantly, please take the following guidelines into consideration before posting:
SUCULTURE's ultimate goal is to ensure that the SUCULTURE community remains safe for all its members. SUCULTURE prohibits any posts, item or discussion that is dangerous or illegal, in accordance with applicable laws and regulations. SUCULTURE prohibits all posts or items which promotes hate, discrimination, or stereotypes of any kind or against a particular group of people.
🟡 All posts must be listed in the most appropriate category/forum.
For the Marketplace policy:
See 'Announcements' listed at the top of the FORUM section.
SUCULTURE during COVID-19
The health and wellbeing of our community is our utmost priority. Mindful of the ongoing novel coronavirus pandemic, we actively encourage our community to follow the relevant public advice on safeguards and the pandemic; to protect family and friends.
SUCULTURE is an invaluable social platform and we urge members to support each other, and create local supportive interactive networks – checking on neighbours and those who are vulnerable. Shopping or collecting groceries for others; living, breathing and practising wellness and a positive lifestyle.
SUCULTURE is committed to ensuring a buoyant community, and in supporting each other in a result-oriented, transformative and safe environment.